In case you missed the update about this pregnancy being considered high risk, you can read it here – What I haven't said about my pregnancy. I'm going back to where I left off and doing bump progress shots, with more information about what we've learned along the way about our baby girl and her medical issue. All of these updates are written in the past tense because I ended up not catching up in time for our baby's arrival! I want a record for myself, for my little girl and to help anyone else who may find themselves in a similar situation.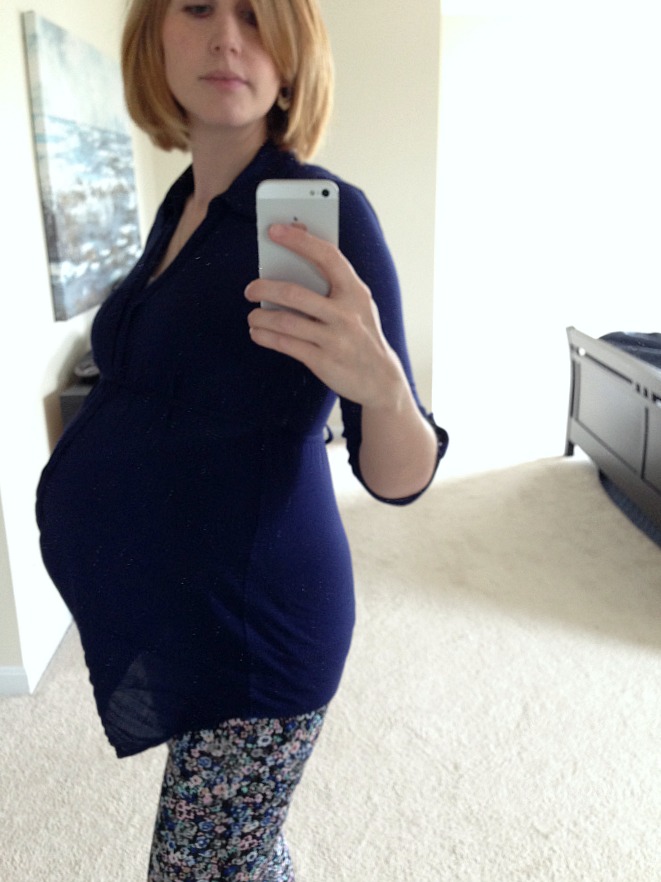 March 13th – March 19th
How big is baby?
Baby is as big as a pineapple, is about 15.2-16.7″ long and is approximately 2.5-3.8 pounds.
How I'm feeling?
This was the week before my shower, and I remember feeling pretty good overall, though I started having contractions that weekend. Little did I know what was in store for me during my 32nd week.
I was starting to get uncomfortable, and this week marked the beginning of twice weekly non-stress tests (with one of those having an amniotic fluid index paired along with it) at the hospital, to monitor contractions, the baby's movement and my fluid levels. At my first one, I was sent to labor & delivery because of the contractions (they were consistently about 3-4 minutes apart). I was checked and, luckily, I was not dilated so my OB believed my contractions were not really doing much at that point. However, at the next test on Thursday, I was still consistently contracting so I was sent down again and had dilated to 1 centimeter. I was sent home with a prescription for Procardia, which I was really unhappy about having to take. Procardia is a smooth muscle relaxer, so the idea is that it will help relax the uterus and tone down the contractions.
Any cravings or weird dreams?
Not really any cravings that I can remember, and no dreams either. This pregnancy was relatively uneventful on both of those fronts, unlike Ezra's where I had a ton of weird dreams.
Any other details?
I had no idea at this time, but this week pretty much marked the end of what had been a fairly "easy" pregnancy up until this point. My fluid levels continued to increase at a pretty steady pace, which meant I was uncomfortable all day and night. I would spend a lot of time in labor and delivery over the coming weeks. The pregnancy became not only something that was physically draining, but emotionally and psychologically draining as well. Carrying a baby with a GI abnormality is hard work!