January always gives me hope. It's full of fresh starts, blank slates, open spaces. It's a welcome change of pace after the busyness of the holidays. I love January.
And every year, I walk in to January with the same intentions: make lists upon lists of things I want to do, think about the past year and what I want to take with me into the new one and what I want to toss aside, and all of the projects I want to tackle over the next twelve months.
And every year, as January comes to a close, I feel those little tinges of disappointment, and I start to listen to those whispering voices that say, "why did you even bother to set goals?" I fizzle out somewhere between the bells of the new year and the monotony of daily life.
If you're like me, you're tired of this pattern. Because January is not the only month this happens; this isn't a unique problem to the start of the year (I wish it was!).
What can be done?
It really comes down to three little words (which you can probably guess, based on the title of this post): Give yourself permission.
Permission to begin again. Permission to admit you fell off track. Permission to hop back on the proverbial horse (or literal if you're workin' on that). Permission to say you aren't perfect, but you tried, and you will try again. And again. And again.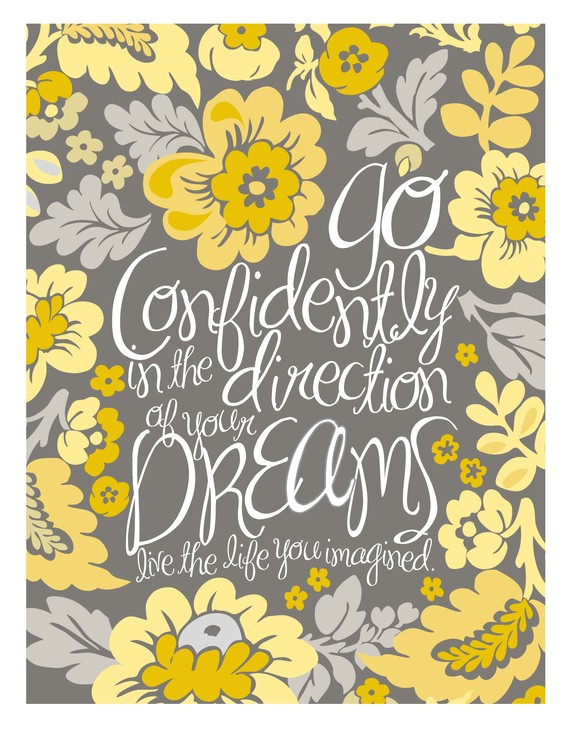 "Go Confidently" poster by Wax Paper Design

I give you permission, if you can't give it to yourself. I'm here to tell you that even if you tossed away your hopes for 2016 on January 2nd, today is the perfect day to try again.
Let's do it together, okay? Over the next few days, Alex and I will share a few of our own goals for this year and how we intend on accomplishing those goals. We will track our progress (the forward and the backward motion!) right here on the blog. I hope you'll follow along with us, and I also hope you'll share your own goals so we can help cheer you on.
Goodbye to January, and hello to February – the month of permission, new starts, and making things happen.